We all enjoy receiving and obtaining gift cards! Our preferred gift card-earning apps, however, might not always have the card we want. For instance, we might need a Lowes card but have won an Amazon card. Let's not forget that you occasionally need money to make investments or pay bills.
Fortunately, there are several ways to sell gift cards online for cash and get a check or PayPal in return.
Keep in mind that every person's success in selling gift cards may vary slightly. Try a few various approaches, then choose the one that works best for you. When you do, please share your findings with us because we're always interested in learning more about how users interact with the products we've highlighted.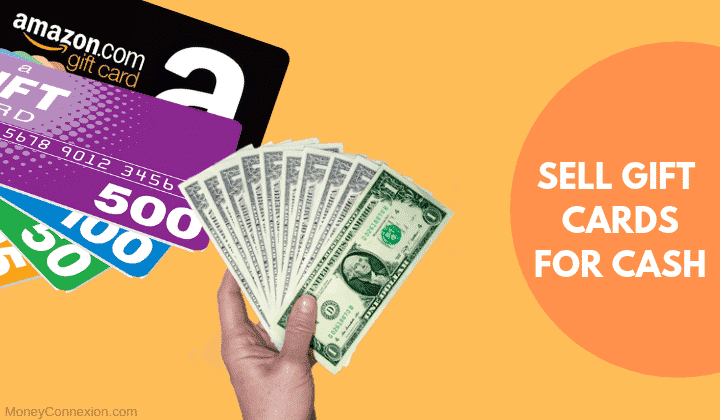 Where can I sell my gift cards?
How you want to get paid is one of the most crucial things to think about before selling your gift cards. Are you looking forward to receiving money right now through PayPal or direct deposit? Or do you prefer to receive a paper check in the mail?
For some people, this may not seem important, but for others, having access to their money is crucial. It's time to get rid of the unwanted gift cards that are piling up in your possession. This time, searching for "where to obtain cashback for my gift card" won't do. It would be nice if you knew exactly how to sell your gift cards and which platform would net you the most cash the fastest.
Once you've decided on this crucial aspect, you may narrow down your choices.
Best Places To Sell Gift Cards Online Instantly
Kangaroo Card
Your first choice for selling your gift cards should be Card Kangaroo. On the Card Kangaroo website, you have to enter the card information to finish the transaction. The site will then make you an offer for the price it will pay to buy the card off your hands. Accepting the offer will net you a free shipping label so you can mail your card to their postal address. The business will release your money by check or PayPal after they receive your card in the mail.
Card Kangaroo currently advertises that it does not take gift cards in exchange for cash. The website says that this is only the case when they change some of their internal procedures. Although we don't anticipate the platform's operating policies changing significantly, be sure to check back soon to make sure they remain the same.
Clip Card
Like Card Kangaroo, Clip Kard asks users to register for an account, and they'll let you know upfront how much they're willing to pay for your gift card. Additionally, just like Card Kangaroo, you have to mail your cards to the given location. Because there isn't much information on the site, you won't know how much your cards are worth, how your card payment is distributed, or when you can expect to get paid unless you're ready to create a user account.
From our experience, Clip Kard is a trustworthy business, and you'll receive consistent payment. Make sure you're okay with going into the situation a little blind, but be aware that you will.
GiftCard from Granny Granny's platform has several features, which we appreciate. They offer a variety of options, and their user-friendly platform makes it simple for anyone to use the website and achieve their goals.
GiftCard Granny stands apart since it assists you in locating locations where you can sell your gift cards for the most money. At one of their chosen gift card exchange sites, you can also sell your gift cards in person. For individuals who prefer face-to-face interaction when transacting, this can be the ideal solution.
The website also provides information on which gift cards are the most profitable to sell, which is a plus. This gives you a good comparison point so you can figure out exactly how much you can get for the card you want to sell. They also give information about which cards will be worth the most in the long run. This lets you plan how you're going to get gift cards from online games and other sites while you're fishing.
Raise.com
Your ability to sell your gift cards is in Raise's capable hands. You can accept or reject offers made to you after posting the amount you want to charge from your card.
Once your card sells, you can change the price as you see fit and get paid via direct deposit, PayPal, or a check.
CardCash
It's simple to sell your gift card on CardCash. Visit their website, choose your card type, input your current balance, and you'll learn how much cash you'll get in return.
Additionally, you have the choice to trade gift cards, which can allow you to increase the profitability of your gift cards by 11%. As a result, if you're looking for a specific gift card, you might be able to identify it and exchange one of your unwanted cards for it.
GC Spread Gift Card Another website that gives you control over the selling process is Spread. You list the price you want to get for your card. Spread has the option to accept or reject your offer, and you have the choice to respond in kind if they do so.
They say they will answer your first offer within 24 hours and speed up the process so you can hear back as soon as possible. After entering your card details online, you ship your card to their Chicago, Illinois, US address. They will then issue your compensation once they have it.
Gift Card Bin
Gift Card Bin makes it clear that they want your business to be your preferred source for reselling gift cards. With this platform and the others, you have to physically travel somewhere to sell your card.
Therefore, this is a wonderful choice if there is a place close by and you prefer to finish your transaction in person. Otherwise, the gift card bin might not be an option.
Where Can I Purchase iTunes Gift Cards?
You may sell iTunes gift cards on Game Flip; in fact, they are one of their more popular resale commodities. After making a user account with a username and password, you can register your card on the platform and, ideally, sell it.
How to Earn Free Gift Cards
Where Can I Find eGift Cards for Sale?
Selling gift cards is quick, simple, and effortless with Cardpool. A big part of this website's appeal is its ability to sell eGift cards, which are also known as online gift cards. Cardpool is your best option if you have an abundance of eGift cards because some of their rivals don't provide the opportunity.
You can also sell gift cards from places like Home Depot, Bed Bath & Beyond, and Banana Republic through Cardpool.
The website advertises that users receive up to 92% of the value of the card they sell, and payment options include a mailed check or another gift card. You can either take the immediate offer from the Cardpool website or wait to see if someone else will make you a better offer.
Gift Card Granny is another option to consider for eCard sales. Although we did say that they provide physical venues for sales, the platform prefers to conduct its business online.
Where Can I Sell Amazon Gift Cards?
The most popular gift cards to sell include those from Amazon. It makes sense as to why. The marketplace on Amazon gives customers access to a broad selection of goods. Amazon has what you need, whether you're shopping for a gift, outdoor sports equipment, or a nice book.
All of the aforementioned platforms assist in reselling an Amazon gift card. You can, however, offer to sell your Amazon gift card to colleagues, coworkers, or family members if you need money right away. You'll uncover a sizable group of potential purchasers within your network, we can almost assure you of that.
Give them the card information (such as the balance remaining on the card, expiration date, etc.) and invite them to bid once you've let them know you're looking to sell your Amazon gift card for a discount.
How to Earn Free Amazon Gift Cards
You don't have to sell your gift card, as was previously suggested. Several of the platforms we looked at let you swap out your gift card for another. Consequently, if you have a Bath & Body Works gift card that you'd like to sell, you can head over to CardPool and locate a card that matches your preferences or interests.
Even though it appears simple and sensible, not all websites provide this function. Because of this, if you're interested in trading your gift card online, you need to know where to start.
What Are Other Options for Getting Rid of Unwanted Gift Cards?
Perhaps you're not as tech-savvy as you'd like to be, in which case you're looking for other ways to get rid of your Target gift card. Or perhaps you still want to make money, but you don't feel like going to the post office or sending your card out via FedEx.
Perhaps you have no interest in using your gift card to make money and just want to make sure that it is used wisely because you don't need it. Whatever the situation, we have a fix for it.
Donate Your Gift Cards
The groups responsible for organizing fundraising events are always seeking donations. Gift cards of any kind are beneficial possibilities to raise money for a deserving cause, whether they are being used as prizes for charity bingo or as goods to add to the next silent auction.
A fundraising committee may use a gift card from a well-known company, like Sam's Club or Walmart, to buy the items they need for an upcoming event.
You might also reserve your gift cards for an annual Angel Tree celebration. An Angel Tree is a philanthropic cause that asks for specific gift cards over the Christmas season to help a family with young children. Just be cautious to check the cards' balances and make sure they are not about to expire.
Whatever method you select, giving your card to a cause you care about is a great way to get rid of unwanted gift cards and maximize their value at the same time.
Re-gift Your Gift Cards
Your brother is an avid gamer, but you don't use any technology. When you get a gift card from GameStop in the future, think about saving it for your brother's birthday or the next big promotion. It will be a thoughtful gift and help you avoid spending too much money on a gift.
Just make sure, if it's a digital gift card, that you can transfer the balance to another person and double-check the card's denomination. Nothing is worse than regifting a card that has no remaining value or that the recipient cannot use.
Buy Supplies for Shelters
Use your redeemable gift card to buy things that you may donate to your neighborhood shelter.
While an Apple Store gift card would not be beneficial, think about using Walmart, Amazon, or Sam's Club gift cards to purchase essential amenities for individuals in need.
Buy Products To Resell Online
Consider using your gift card to purchase items you can resell on Facebook Marketplace or eBay if the value of your gift card isn't enough to cover your expenses and you want to make some money.
There is another way to get the full value of your gift card back, but it will require more time and effort.
The Bottom Line
Gift cards, whether they are physical or digital, are one of the easiest things to turn into cash if you don't want them.
Try any of the websites we've identified as a resource for your initial selling effort if you're looking for a place to start. You may sell your gift cards for cash at any of these locations, and they all provide a variety of convenient payment methods that suit your needs.